Its been ages since I last blogged about something... I've been busy lately, with most of my time spent on making up on the lectures which I've missed, playing The Last Remnant and of course dotA :)
Its been almost 3 months since my last haircut, and my hair looks like crap now because it has started to curl up a bit. Why can't I have normal straight hair just like the 1.4 billion Chinese in China? That would make my life easier as I could style my hair to my heart's content ;) I had a few hairstyles in mind, tell me what u think of them.
Long hair comb back style by mike he (will probably take me an eternity to grow hair as long as his)
Love this 1 the best but I don't think its even possible for my hair since its so curly ~_~
Some person with the hairstyle which I like (ignore the face) :D
Last but not least, some pics of the super leng chai lead character from FFXIII versus. I want his hair *evil grin* Lol...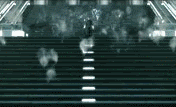 Well, this is my current hair length... See all the curls? Sigh... Long way to go... Need to remove those sideburns...